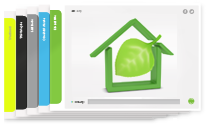 Principle of producer responsibility
The Waste Act establishes to the so-called products of concern the principle of producer responsibility, which means that the producer is obliged to guarantee that waste generated as a result of a product of concern manufactured, placed to the market or imported by him is collected and recycled or disposed. Products of concern include also electrical and electronic equipment, their parts, batteries and accumulators.
Producer responsibility applies to undertakings – to manufacturers, importers, as well as to wholesale and retail sellers, who must take responsible for the substances and components containing in a product and for the product as a whole from manufacturing the product until its turning into waste.
The collecting of WEEE can be organised both individually (an organisation independently) and collectively (e.g. through MTÜ EES-Ringlus), but in any case the producer/importer must guarantee a nationwide network for collecting WEEE. In case of collective approach, the collecting network will be organised by MTÜ EES-Ringlus. Information about the collection points of EES-Ringlus is available here.
If there are no facilities for waste collection within the radius of 10 km, the distributor will be released from the obligation to take back WEEE on more than one-to-one basis, this means that the consumer has the right to return old equipment to the shop only if he or she purchases a new device of similar kind from there.
If there are no facilities for collecting WEEE within the radius of 10 km, the distributor is required to take back waste electrical and electronic equipment generated from equipment of equivalent type and function as the sold equipment free of charge in an amount greater than that of numerical accordance.
The obligation to follow the principle of producer responsibility for WEEE entered into force on 13th August 2005. EE equipment that has launched the market after 13th August 2005 must bear a marker according to the standard EVS-EN 50419:2005.
As from the enforcement of the principle of producer responsibility, the producer is also obliged to take back waste generated from equipment placed to the market before 13th August 2005.